Meet Regulations Consistently and Reliably
The Acid Gas Cleaning functionality in Aspen HYSYS features rigorous rate-based calculations that utilize the superior strengths of Aspen Properties to deliver unprecedented accuracy and predictive results. Improve Acid Gas Cleaning modeling, even when extrapolated to cover changing source gas conditions.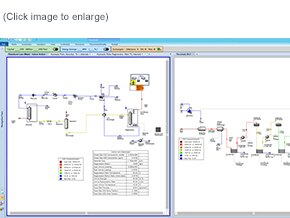 Model Gas Processing in a Single Environment
Aspen HYSYS is the most comprehensive solution for modeling your gas plant. From the intricate thermodynamics of Acid Gas Cleaning, sulfur recovery and dehydration to the rigorous equipment models for heat exchangers, columns and compressors -  you don't need to look anywhere else.   
Maximize Profits with Better Column Modeling
Column Analysis in Aspen HYSYS allows you to view the whole column, identify any hydraulic issues, understand the operating range, and communicate your findings. See how modifications in packing and trays change the hydraulic plots and the operating range of the columns. Calculate costs as you make changes.
Increase Model Fidelity with Predictive CO2 Removal
Reduce gas giveaway and consistently meet sales gas quality and emission standards with rigorous predictive modeling of carbon dioxide removal. Save capital costs by reducing fouling and catalyst deactivation in the tail gas treating equipment in gas processing.
Forecast and Prevent Amine Degradation
Minimize amine replenishment costs and energy use in gas processing with accurate prediction of heat stable salt formation. Predict amine degradation with accurate heat-stable salt models to ensure optimal gas processing plant operation
Continuing Innovations in Acid Gas Cleaning Modeling
The Acid Gas Cleaning functionality was introduced in the Aspen HYSYS V8.3 release and has been continually improved. In addition to amine solvent modeling for gas-liquid systems, you can model Acid Gas removal using physical solvent (DEPG) in V8.6 and Liquid Treating for Acid Gas extraction from NGLs and LNG in V9.
Easily switch from Property Packages from DBR Amine to Aspen HYSYS Acid Gas
In V8.8, you have an option to convert an Aspen HYSYS case which includes a DBR Amines fluid package or an Amines Pkg fluid package to the new Acid Gas package for gas treating. The old case is saved as a backup and a report is produced, with any warnings or errors that occurred.
Push the limits of performance with Aspen HYSYS.
Visit our NEW Aspen HYSYS Resource Center!  As the leading innovator in process simulation software for more than 30 years, Aspen HYSYS provides greater accuracy, integration and ongoing innovation than any other process simulation tool for the energy industry.  This resource center will help new and experienced users discover the full power of Aspen HYSYS.