The new generation of engineers entering the workforce is faced with complex and critical challenges: adapt to sustainability goals, achieve net-zero carbon emissions, contribute to a thriving industry, and more. Meeting these challenges requires universities to ensure these young engineers develop the necessary skills and gain the requisite knowledge of today's cutting edge digital solutions essential to companies in their digital transformation journeys.
One of the leading institutions focused on preparing its students for these challenges is the King Fahd University of Petroleum and Minerals (KFUPM) located in Dhahran, Saudi Arabia. With the goal of preparing graduates for their industry careers, KFUPM is partnering with AspenTech to develop student proficiency in using the company's digital solutions which are widely used across industries around the world.
To achieve this goal, KFUPM entered a three-year partnership with AspenTech not only to secure an academic license so students could use the company's solutions in the curriculum but also to take advantage of a comprehensive eLearning curriculum that allows the students to learn AspenTech solutions on-demand, outside the classroom, which greatly enhances the learning experience and effectiveness.
Earlier this year, senior students participated in a two-day intensive learning bootcamp where they learned process simulation tools first-hand from AspenTech experts. This learning event empowered students with valuable hands-on experience using industry-standard process simulation software.
The KFUPM-AspenTech partnership also offers user certification, a program that AspenTech offers to both industry and academic users. Certification has proven motivational for learners and helps them focus on specific areas of knowledge and skill. To help its students intensify their study toward certification level, KFUPM arranged a refresher workshop which was attended by more than 200 junior and senior-level chemical engineering students. The workshop helped attendees gain a deeper understanding of AspenTech's solutions. The students were excited about passing the Academic User Certification exam as it showcased their level of proficiency and provided them with competitive advantages in their future career. Based on the success of the initial certification workshop, AspenTech administered an Aspen HYSYS® certification exam that was successfully passed by 50 students.
With successful certification experiences, in September, KFUPM hosted an on-campus celebration to recognize the outstanding KFUPM students who became Aspen Academic Certified users.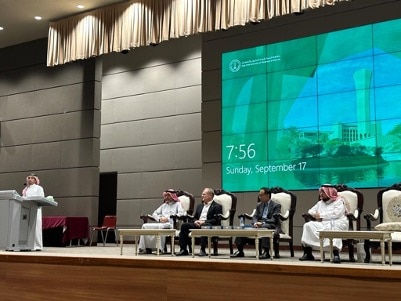 AspenTech executives, including Craig Smith, senior director of sales, and Steven Qi, senior vice president of AspenTech Customer Support &Training, were pleased to join other AspenTech colleagues, KFUPM's Dean and numerous faculty members to congratulate the students. Certificates were presented to each student passing the Academic Certification exam and special trophies were awarded to those who scored the highest in the exam.
Steven Qi commented, "Our conversations with the esteemed university faculties were refreshing. Their plan to expand education on various cutting edge digital technologies is truly exciting."
Following the success of the partnership program thus far, KFUPM has set up additional learning and certification activities for later this year.
AspenTech is committed to helping academic institutions achieve their education goals and prepare their graduates to become leaders. The forward thinking of KFUPM and its commitment to advancing education toward new technology are the cornerstone of the partnership between AspenTech and the university. We look forward to sharing more updates on the progress and success of this partnership in the future.