Today, industrial organizations are experiencing several challenges at once:
high spares, maintenance costs and equipment downtime
low reliability for static and rotating assets
financial losses due to degrading equipment throughput
abundance of digitalization tools that have yielded low value to-date
lack of a comprehensive maintenance strategy across plants
To meet these challenges, Amazon Web Services (AWS) has partnered with AspenTech in developing the Asset Maintenance & Reliability (AMR) solution which includes technology from both companies to improve the reliability and maintainability of developing a robust predictive maintenance strategy. Purpose-built for manufacturing, this solution is easy-to-use and scale. Operations, Maintenance and Reliability engineers can remotely monitor assets, 24x7 and prioritize maintenance activities using early warning signals and soft signals to extend the useful life of equipment .
An Innovative Approach to Asset Maintenance & Reliability from Aspen Mtell®
Aspen Mtell provides early warning and predicts failure of equipment. It uses machine learning and soft sensors to develop patterns for anomaly detection and to recognize precise patterns in operations that indicate degradation and/or impending failure well before it happens. Working with AWS, Aspen Mtell provides a cloud-ready environment for next-generation Industrial AI products and solutions to meet operational excellence and sustainability goals.
This solution provides key capabilities:
Recognition of patterns in operating data that predict degradation and impending failure, providing the first layer of protection against asset degradation.
High accuracy with fewer false alarms using precise failure pattern recognition, avoiding the high rate of false positives common with model-based solutions.
Augment current strategy with enterprise scalability using AI-assisted agent creation, complementing existing maintenance strategies to quickly deploy autonomous agents site or enterprise-wide.
Fast time to deployment using low-touch machine learning, rapidly identifing normal and abnormal behaviors to start protecting equipment within weeks, not months.
With these capabilities, the AMR solution provides multiple benefits.
Scale Predictive Maintenance Quickly
Aspen Technology embeds AI into domain-specific, fit-for-purpose applications so you don't have to. Aspen Mtell, AspenTech's AI-powered machine learning solution, monitors the actual behavior of the equipment through AI-powered autonomous agents to retrieve early indications of potential failure. With Aspen Mtell, customers can plan maintenance proactively thereby reducing maintenance costs & increasing equipment reliability.
Accelerate Time-to-Value
Seamless, flexible data mobility and integration is powered by AWS infrastructure. Aspen Mtell allows users to transfer failure signatures across similar equipment. Scalability enables users to blanket the plant with autonomous agents for maximum equipment protection- this significantly accelerates time-to-value for industrial organizations.
Running Aspen Mtell on AWS
AWS offers a reliable and secure cloud platform that enables businesses to quickly deploy scalable solutions and reduce their total cost of ownership. AWS enables operations data that are connected to the cloud via smart sensors with virtually unlimited storage and compute capability for 'burst' engineering workloads at a lower cost (versus keeping on-prem resources available). The reference architecture bellow illustrates a highly available Aspen Mtell deployment on Multiple Availability Zones (AZs) on AWS.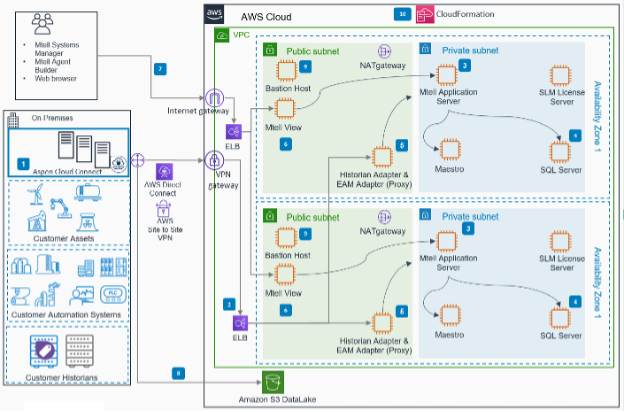 Figure 1: Reference Architecture of Highly Available Aspen Mtell Deployment on AWS. In the unlikely event of an AZ failure, this architecture allows Aspen Mtell to continue running using resources in the other AZs.
Key Takeaways of this Architecture
Aspen Connect connects data sources from resources like customer assets, control automation systems and historians including Aspen InfoPlus.21® (IP.21) from industrial sites into Aspen Mtell running on AWS via AWS Direct Connect or AWS Site-to-Site VPN.
Data from edge hits Elastic Load Balancing after passing through VPN Gateway. Traffic is distributed to instances running Historian Adaptor spread across two Availability Zones in HA configuration.


Amazon Elastic Compute Cloud (EC2) Autoscaling allows instances to scale in or scale out based on the load. These EC2 instances, running as part of an auto-scaling group across two availability zones, in a private subnet, hosting Mtell application servers that aggregate and manage data from all sites.


Amazon EC2 running SQL Server Database is used to persist data for the Aspen Mtell Application. You can use RDS SQL Server with "Always On" set for high availability and disaster recovery.


Historian Adapter fetches the data from remote historians into the Aspen Mtell Application Server. Enterprise Asset Management (EAM) Adapter connects to the EAM applications running on-premise or on the cloud.


Amazon EC2 instances running are part of auto-scaling group that hosts Aspen Mtell View, which provide web browser access to the graphics.


End-users can connect to the Aspen Mtell View server using web browser or mobile devices. Elastic Load Balancing behind an internet gateway directs user traffic to Amazon. EC2 instances running aspenONE® Process Explorer servers in private subnet.


Aspen Cloud Connect can deliver the asset model and OT data to Amazon S3 for storage enabling you to build operational Data Lakes in the cloud. Aspen Mtell can tap into this data using AWS services like Amazon Athena.


Bastion Host running in Public Subnet serve as a proxy server to connect to instances in private subnet for troubleshooting and maintenance operations.


CloudFormation automates provisioning and configuration of all necessary AWS services needed to deploy Aspen Mtell.

Digital transformation and sustainability are driving today's corporate strategies. Partnering together, AspenTech and AWS offer solutions that provide our customers with flexibility and scalability benefits to achieve greater automation, improve resource efficiencies and drive overall operational excellence that supports a carbon-neutral future. Our solutions help your company meet your strategic goals -- today and tomorrow.
To learn more, join us for the LIVE "Announcing the NEW Asset Maintenance & Reliability Solution from AWS & AspenTech" webinar on September 27th @ 10:00 AM EST
Contributing Authors: Pratibha Pillalamarri (AspenTech), Carole Gunst (AspenTech), Preet Virk (AWS), Marcos Kajita (AWS), Davinder Harcharan Singh (AWS), and Karthick Srinivasan (AWS)