Twelve months later and no one can deny that the Inflation Reduction Act (IRA) has made its mark. Despite the misleading name, the legislation passed one year ago has changed the investment environment for crucial low carbon energy projects and helped the US strengthen its technology leadership position worldwide. At the same time, the approach has forced other regions to rethink how they fund and encourage similar sustainability-targeted investments.
To be clear, the IRA includes much more than clean energy investment, such as healthcare and consumer provisions, but its impact on clean energy projects has been significant. The Business Council for Sustainable Energy (BCSE) calls it "the most consequential US federal law ever intended to address climate issues. The law represented a major victory for various clean energy sectors".1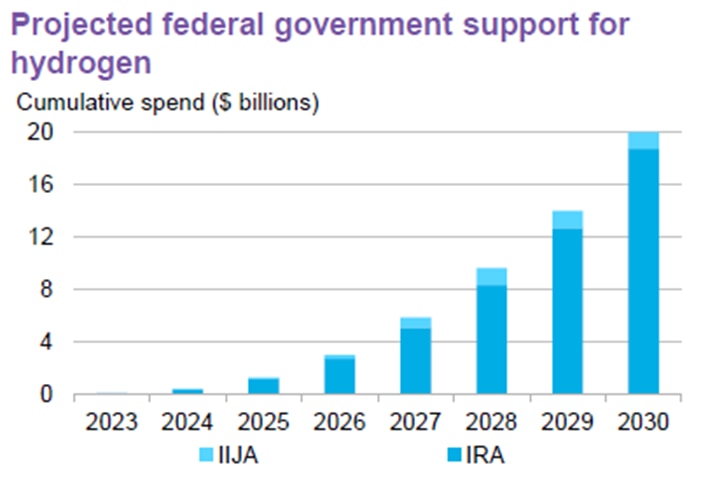 Key provisions for clean energy in IRA include:
Hydrogen: production tax credit 45V up to $3/kg in first 10 years of project operation; estimated $20B in US government support to 2030.


Carbon Capture: enhanced 45Q tax credit for storing and using CO2 up to $85/tCO2 for point-source capture and $180 for direct air capture (DAC).


Wind and Solar: extension of the Investment tax credit until at least 2032; new tax credits for floating and bottom fixed offshore wind foundations.


Batteries: $45/kWh cell and module tax credit. US battery manufacturing capacity is forecast to reach 178GWh by the end of 2023.
The US had been at risk of falling behind on key decarbonization activities compared to other regions until the IRA was passed. When combined with the related Infrastructure Investment and Jobs Act, the Department of Energy estimated that up to $430B in investments were enabled by this supporting legislation through a mix of tax incentives, grants and loan guarantees.
With full execution of the ambitious provisions in this legislation, the US could cut CO2 emissions by 41% by 2030 compared to 2005. This estimate is better than previous policy impact of only 28% reduction, according to the REPEAT Project at Princeton University, but still short of the 50% reduction target.
The BCSE highlights that more than 200 US clean energy projects have been announced and more than 70,000 jobs have been created since its passage in August 2022. And the activity has been far reaching, from major companies to start-ups, US-based and international, encouraging development across the value chain. Recent examples include Ford's plan to build a $3.5B electric vehicle battery plant in Michigan, Europe-based ClimeWorks' participation in the Project Cypress direct air capture hub, and GE's plan to assemble wind turbine gear boxes in New York.
Adding Details
Certainly progress has been made in the past year, although the roll-out has been slower than expected as key details had not been defined in the initial version. In recent months the Federal government has shared more details on how projects can qualify for the funds such as materials sourcing, project siting and employment impacts.
Project permitting was skipped in the legislation and the process is often protracted and can be contentious in many states. The build out of infrastructure to support new energies, such a CO2 pipelines and storage wells for carbon capture and storage projects, is a key qualifier for project execution, and this delay and uncertainty may limit how many projects progress from announcement to final investment decision. Recent data shows that more than 575 wind and solar projects have been rejected thus far in 2023, up more than 15% compared to last year.
Another key remaining topic yet to be defined is the concept of "additionality" for energy sources for green hydrogen. The debate is whether new green hydrogen projects can use existing renewable energy sources or credits to lower the carbon intensity, or if the projects must include renewable generation for its operational needs. The Internal Revenue Service and Treasury department are reviewing the plan after industry participants filed complaints about a narrow approach.
"The question based on how the regulations are written is, 'Will we continue to accelerate in the United States or put more emphasis in Europe,'" CEO of hydrogen-producer Plug Power told the Financial Times last month.2
This targeted action in the US has forced other regions to rethink some of their clean energy activities. The European Union in particular, is adapting some provisions in the Green Deal plan to limit investment loss in the region. Japan and South Korea have also announced new subsidies for their tech and clean energy sectors, notably in the battery supply chain.
Instead of taking a competitive view of clean energy investment, I prefer to reflect that the project pie is finally beginning to grow. IRA helped to jumpstart the type of investment levels needed to accelerate the Energy Transition, and now more regions are encouraging similar developments.
Missing Element
One important element that is missing in this recent US legislation is the value of integrating digital technologies to boost efficiencies and accelerate progress on clean energy efforts. The European Union has been intentional about including digitalization in portions of the Green Deal, specifically encouraging energy efficiency and the integration of renewable energies. The International Energy Agency includes similar digital programs in its Clean Energy Technology Guide, expanding to also include electrical grid management and monitoring of CO2 storage wells.
The World Economic Forum has highlighted digital success stories for the past few years through its Lighthouse program. The program tracks CO2 emission savings from projects across industries and regions using digital twins, artificial intelligence and improved data management.
Many companies have seen efficiency gains and emissions reductions through their own digitalization programs. Further encouragement to apply these impactful solutions to industrial operations across the US could accelerate progress toward ambitious 2030 targets that are still out of reach.
---
Image Source: BCSE
[1] Sustainable Energy in America 2023 Factbook, The Business Council for Sustainable Energy and BloombergNEF, April 2023.
[2] Energy groups mount campaign against tough US clean hydrogen rules, Financial Times 30 July 2023.