The fourth edition of the Middle East Process Engineering Conference & Exhibition (MEPEC) took place October 9–11 in Bahrain. Which is to say this is a key regional technology event, created and built by the drive of a few key individuals at Saudi Aramco, SABIC, and Sadara.
AspenTech has been a founding supporter and active participant since the first event six years ago, and I've had the unique perspective of participating each of the past four years (this year for the first time as only a participant, not a presenter). It gave me time to look around and "take the temperature" of the event, which came at a self-described transition time for Saudi Arabian and Gulf State refiners and petrochemical producers.
Several key themes were explored from several angles, over three days: integration (among companies, across the hydrocarbon value chain), doing more with less, innovation and sustainable growth.
There are many 2017 challenges and opportunities in the Middle East caused by macroeconomics. The leaders must chart a path through stormy waters, into the next decade.
Organizational change was talked about as a solution, as was process technology and the changing configurations of refineries.
What AspenTech contributed to this energetic conversation was a focus on digital technology innovation. Amidst the change in the global oil economy, what is the right knowledge and the right technology to achieve a step change in refining reliability and flexibility? Machine learning and analytics were central at MEPEC, as both innovations promise to impose discontinuity in operational and business strategies.
Day One: Growth Through Innovation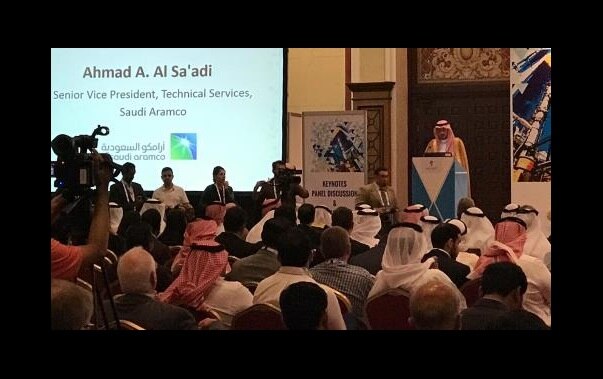 Saudi Aramco, a company with very substantial energy assets, world-class process facilities across the supply chain (from well to petrochemical plant to gas station) and formidable financial resources, laid out a roadmap to position the company for sustainable long-term growth through innovation. Ahmad A. Al Sa'adi, Saudi Aramco's senior vice president of technical services, talked about the practicality and achievability of the company's goals.
He laid out a few key initiatives being undertaken, including technology innovation, operational excellence and reliability. Saudi Aramco is now funding three worldwide R&D centers — in the U.S., England and China. These R&D activities have yielded some 450 patents in the past year. Further, the company has funded 25 startup technology ventures and recently acquired one such technology, a chemical product line called Converge, which converts waste CO2 (a greenhouse gas) into polyol.
Day Two: Commercialization of Ideas
Abdulmohsen Almajnouni is CEO of Research Products Development Company (RPDC) in Saudi Arabia, a new organization created to facilitate and accelerate the commercialization of ideas, innovations and patents developed in Saudi Arabia. He grabbed the audience's attention and made some important points. His transformational message was an imperative for all enterprises to drive towards "value over volume."
He challenged the region to change its current way of thinking, which he called "the way of the biggest, tallest and lightest." Saudi Arabia now has the capacity to refine 3.3 million barrels per day of oil equivalent. Along with that, the country is producing 130 million tons per day of chemical products and makes 15 percent of the world's ethylene plus 8 percent of the world's urea.
Yes, he noted, those are truly impressive numbers. But how much meaning do they have for the future in a changing global economy? In a world where the Gulf region no longer commands a price and supply advantage over crude oil and natural gas, it is no longer the case that refined petroleum, ethylene, urea and other commodity chemicals will be the engine to fuel the future of Saudi Arabia and the region.
Instead, he argued, a shift in focus and direction toward creating value rather than volume is crucial.
A key shift that Saudi Arabia needs to make, to realize the promise of a value-based future, is to develop a thriving specialty chemicals industry. Not coincidentally at all, of course, the sponsors of MEPEC (led by Saudi Aramco and SABIC) had created a new focus for the MEPEC event, a specialty chemicals focus sub-event.
Day Three: Sustainable Growth in the Region — Change Agenda
Ziad Al Labban opened the final MEPEC 2017 plenary. As former CEO of one of the region's largest companies, Sadara, Al Labban carries instant respect and credibility. His core message was, "Do more with less," particularly in terms of driving out inefficiencies in the region.
He talked about sharing resources among the mega-enterprises in the region. Could two rival companies find areas for shared efficiency that don't interfere with their competition? He also talked about challenging people and organizations to do things differently and better every day.
The Future Is Closer Than You Think — the Power of Analytics
AspenTech President and CEO Antonio Pietri completely engaged his audience with a discussion of the big picture of where technology is going to help the process industry achieve its "sustainable growth."
An earlier speaker had talked about a billion dollars of value left on the table in reliable operations; Antonio talked about over a trillion dollars of value left on the table due to the inability of traditional maintenance procedures to address plant reliability issues. He also laid out how analytics and machine learning would break through a significant part of this trillion-dollar barrier, but only by combining deep knowledge of process industry operations with these mathematical concepts.
The effect Antonio's presentation had was evident in the first question from the audience: "At the next MEPEC will we be sitting in the audience asking questions to robots up on the stage?" Antonio answered that technology empowers us to spend more time on value-add work, with successful organizations being the ones that can best take advantage of new technology and make the right decisions as to where to invest to optimize their assets.
What Happens Next?
The Middle East is determined to ride a wave of innovation, of business change, of doing more with less and of adopting technology to navigate steady, sustainable growth. These mega oil and gas producers, refiners and petrochemical producers are well-positioned to lead the way.
With prodigious financial resources, sophisticated and large-scale plants, demographics in their favor and the foresight to invest in education and innovation, the opportunity is there. The key will be navigating the right path.