As the energy sector strives to reduce its environmental impact and transition towards more sustainable practices, the efficient management of data is paramount. As a strategic partner of Microsoft, we were excited to participate in the recent announcement of the general availability of Azure Data Manager for Energy (ADME), an OSDU Platform, enabling energy companies to realize the full potential of their data by offering a unified, open-source platform for integrating various data sources.
Recognizing the critical role of these data and the OSDU Data Platform, Microsoft announced the launch and general availability of ADME at a dedicated event held at the Houston Ion Innovation Hub on August 30th. ADME is an open, fully managed OSDU Data Platform service that is powered by Microsoft Azure and includes:
Integration with virtually any dataset, application or cloud service
Management for computer-intensive workloads at a global scale
Rapid data ingestion for analytics and faster decision making
Alignment with the requirements of the OSDU technical standards for open-source innovation
Technological advancements continue to reshape the way we extract and manage energy resources. In today's world of mission-critical net zero targets, the effective management of data has moved to the forefront. The standards based OSDU Data Platform, developed by the Open Group OSDU Forum, seeks to reduce data silos, enhance workflows and accelerate innovation of digital solutions across the energy industry.
At the event, AspenTech showcased its powerful Subsurface Science & Engineering solutions by successfully demonstrating the ingestion of operational well data into its formation evaluation toolkit while curating and ensuring data readiness for use by the customer's software ecosystem, all within the ADME infrastructure.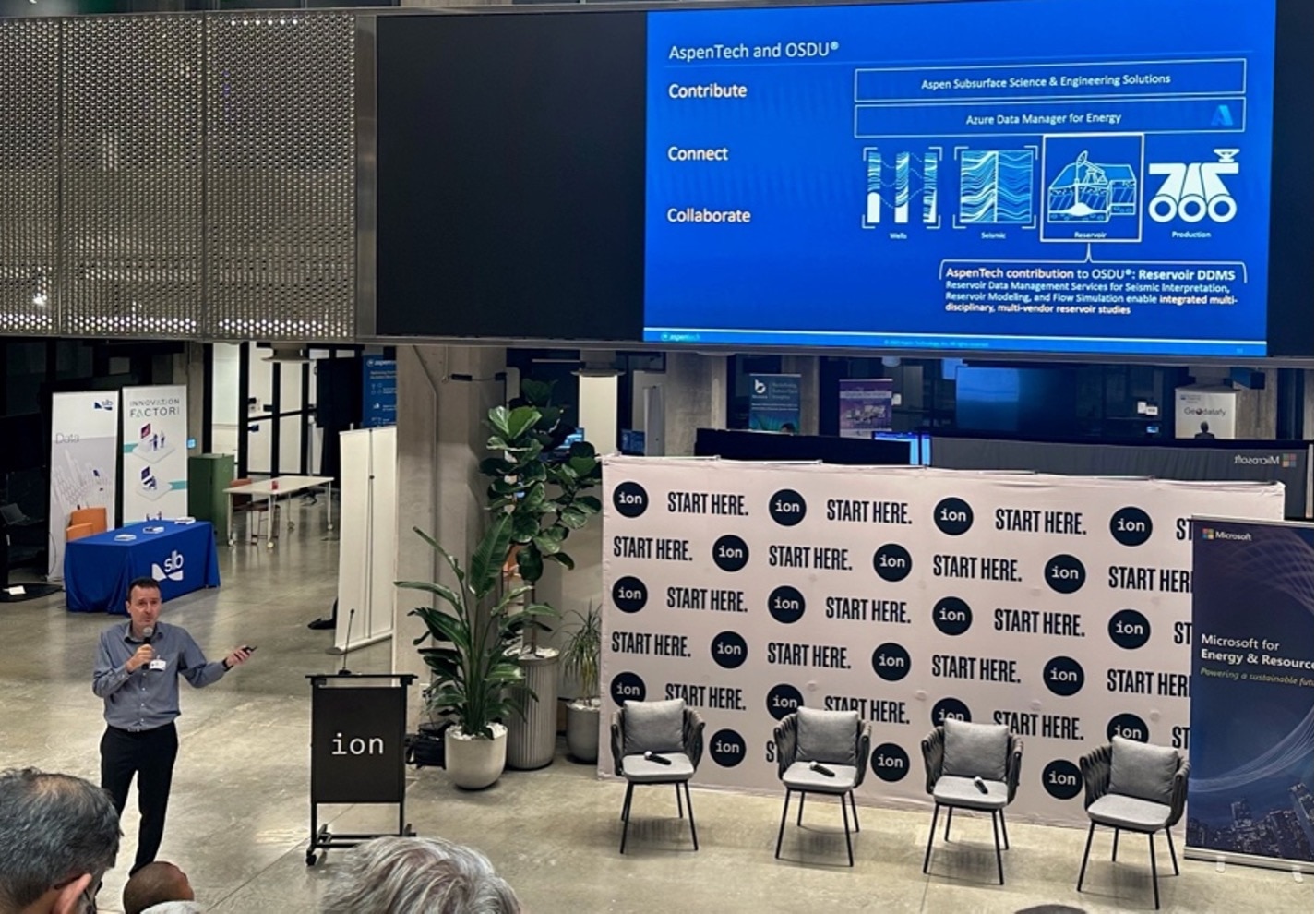 AspenTech demonstrated an additional use case of interoperability on top of ADME, showing how seismic data and reservoir data were shared between multi-vendor solutions for seismic interpretation and reservoir modeling.
The combination of Microsoft's and AspenTech's innovative solutions offers a glimpse into the future of data-driven operations and demonstrates just the most recent example of what's possible with combined solutions.
This announcement followed an event in March of 2023 where AspenTech, along with Emerson, launched a demo at the newly opened Microsoft Energy Transition Center of Excellence in Houston, TX. Partnering with Microsoft, AspenTech and Emerson provided customers with an end-to-end demo showcasing how to tackle key challenges in the hydrogen value chain.
AspenTech is also a partner of Microsoft Energy Data Services. This developer-ready platform connects once siloed energy datasets to applications from Microsoft and their partners.
As we move forward into a new era of energy data management, standards-based, data-driven solutions will play a pivotal role in shaping a more efficient, sustainable and resilient energy future. AspenTech, a strategic partner in this initiative, is contributing to the evolution of data management through its solutions. The deepening partnership between AspenTech and Microsoft, with the general launch of Azure Data Manager for Energy and the integration of the OSDU Data Platform, marks a significant milestone in the energy industry's ability to make the most out of their data.