With a focus on empowerment and autonomy, interns at AspenTech are not mere observers; they are active contributors who drive projects, pose questions, innovate solutions and take ownership of outcomes. We value the infusion of fresh perspectives, leveraging their academic foundation to tackle business-specific projects. Covering a diverse array of fields—from research & development to engineering, marketing to finance, professional services to artificial intelligence—interns join departments that resonate with their studies and career goals.
Exceptional interns are offered the chance for extended internships or full-time positions, creating a pathway for continued growth within the AspenTech community post-graduation.
As summer draws to a close, we shine a spotlight on six interns: Priyanka, Rachel, Tanvi, Priya, Navina and Yu and their experiences with us these past few months!
How did you first hear about the AspenTech intern opportunity, and what motivated you to apply?
While actively exploring internship opportunities, I came across the organization's internship listing on LinkedIn where I found the exciting projects the company is working on. I was motivated to apply for this internship because I am passionate about exploring the practical applications of machine learning in real-world scenarios. AspenTech's commitment to innovation, combined with the opportunity to work with a talented team, made it a perfect opportunity for me to apply.
What skills did you develop or improve upon during your internship?
I had the opportunity to develop and improve a wide range of skills. I was able to hone my programming skills in Python, as I worked on real-world projects. I enhanced my problem-solving skills through various assigned tasks. I learned how to research efficiently and propose viable solutions to challenges, while also being able to improve and build effective communication, teamwork, and time management. Overall, the internship provided me with a valuable learning experience with a strong foundation for my career.
How did your internship align with your career goals and aspirations?
To me, Data Science is undeniably a multifaceted field. While I gained substantial knowledge during my first two years at university, I remained uncertain about its real-world applications and how well it aligned with my capabilities. Joining AspenTech has provided me with the opportunity to immerse myself in the dynamics of organizational life, actively participating in meetings and engaging in a full workday. Now, I can confidently affirm that I have found the right path and feel a heightened sense of motivation.
What is one piece of advice you would give to someone interested in an internship opportunity at AspenTech?
The term I'd emphasize is "proactive." It has consistently been my proactive approach that has opened doors for me to join AspenTech and advance within the company. Taking initiative has significantly streamlined my journey. I encourage you to seize opportunities at your school's career fair. Don't hesitate—my first ever internship with AspenTech has been highly rewarding.
Tanvi B. (She/Her)
R&D and Design Systems Team
Digital Media and Communications Student | Georgia Institute of Technology
What skills did you develop or improve upon during your internship?
I was able to improve on many technical and professional skills. First, I gained expansive knowledge on Figma, a prototyping software, which acts as building blocks for visual brand identity of a company. Being able to understand these building blocks and how they all come together was invaluable. Besides the technical skills, I also learned how to step out of my comfort zone and speak to team members of the company. Being remote, it was important for me to reach out to people and build connections. Luckily, everyone was extremely kind and willing to converse as well as provide feedback on projects or give career advice. I built various connections with colleagues that ultimately boosted my confidence and improved my communication skills. Going forward, I will have a better understanding of my field of study, professionalism and be able to bring those skills wherever I go!
What is one piece of advice you would give to someone interested in an internship opportunity at AspenTech?
Don't be afraid to reach out! When I started, I was apprehensive to ask for time from team members. However, I soon realized they were as excited and willing to talk to me as I was to them. Everyone is a wonderful resource and can help with questions you face, provide feedback and lend career advice.
How did the internship contribute to your understanding of the industry or field of work?
I gained invaluable practical insights, enhancing my understanding of this dynamic field. Hands-on engagement in real projects alongside experts demystified model selection, hyperparameter tuning and iterative refinement. I delved into data preprocessing, realizing its impact on model performance. With exposure to supervised and unsupervised learning projects, I mastered algorithm nuances, enriching my task-specific adaptability. Ethical considerations in sensitive data projects deepened my awareness of responsible AI. Overall, my internship provided practical experience, diverse exposure and ethical insights, solidifying my comprehension and essential skills for success in this evolving landscape.
What is one piece of advice you would give to someone interested in an internship opportunity at AspenTech?
Proactively seek out opportunities for cross-functional collaboration. Embrace the chance to work with professionals from various departments, as it can provide a holistic view of the company's operations and a deeper understanding of how your role fits into the broader organization.
What would you say was the most memorable or impactful moment of your internship?
The most memorable and impactful moment of my internship was successfully launching a web application that I contributed to as a front-end developer. Seeing the culmination of our team's hard work, from design to implementation, and witnessing the positive user feedback, highlighted the actual impact of my skills and efforts.
Yu C.
Data Science Team Machine Learning Intern (R&D)
Chemical Engineering Major | Rice University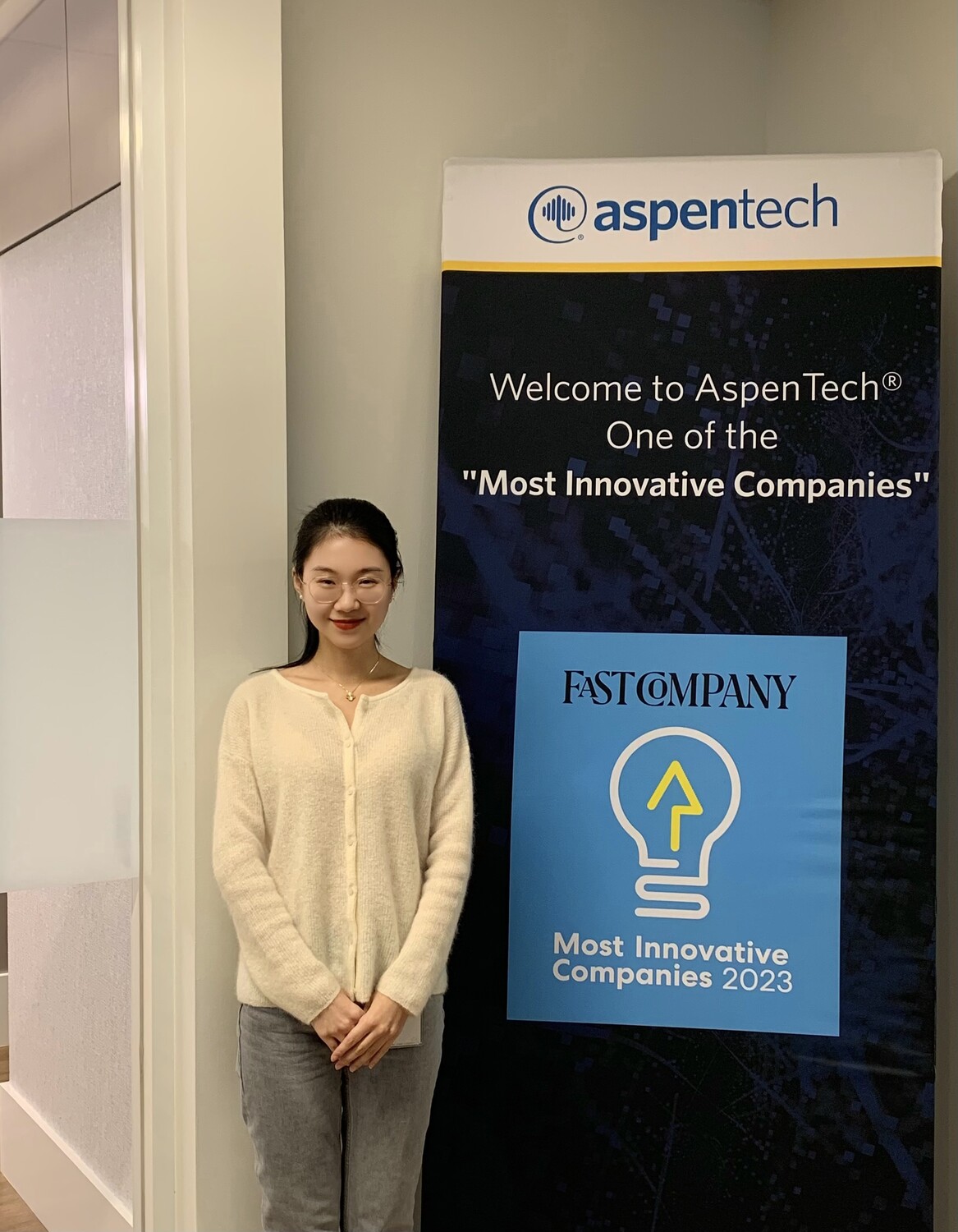 How did your internship align with your career goals and aspirations?
I have always wanted to expand my machine learning skills set and apply it to my research project, but I never got the chance. Therefore, I was excited when I had the opportunity to join the AspenTech data science team to work on the machine learning project. In my three-month experience as a data scientist intern, I learned the basics of machine learning, enhanced my coding skillset and contributed to the projects. This internship experience equipped me with a background in machine learning and data science, which will provide me with more possibilities in my future career.
Interested in joining our next intern cohort? Visit our University Career Paths website to explore the possibilities.