In a recent survey conducted by Axendia, almost 70% of respondents indicated that they are in the process of piloting digital transformation technologies, undergoing or have completed digital transformation.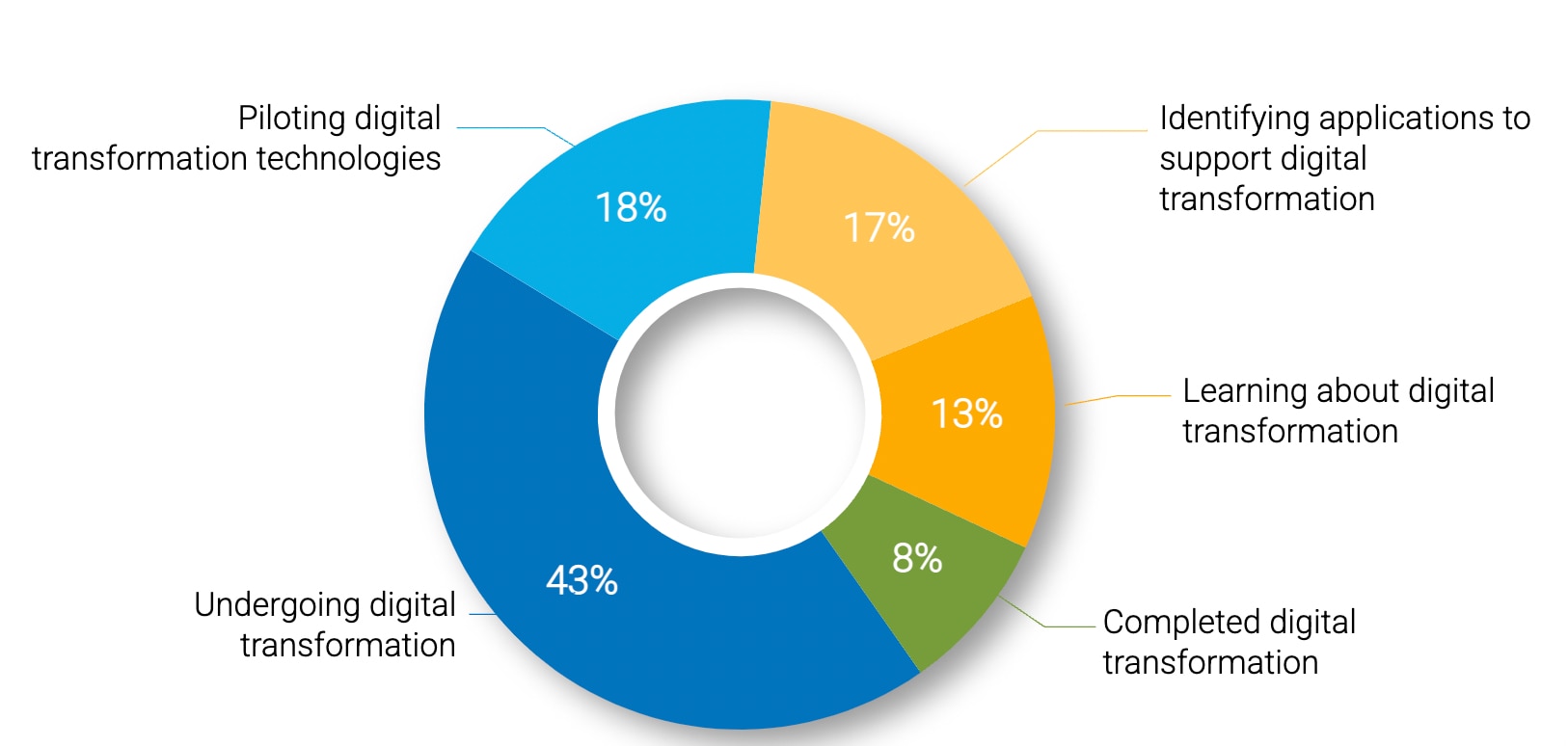 Figure 1
This represents marked progress over the past few years and serves as a positive sign that pieces of the puzzle are coming together - cultures are shifting, expertise is expanding, and technologies are becoming increasingly accessible.
Although there are mixed perceptions as to how supportive regulatory agencies are, there are numerous examples of the FDA stepping up its advocacy for digitalization and the indisputable value it brings toward the end goal of bringing medicines to patients more quickly and increasing their accessibility.
As we look ahead to this year's ISPE Annual Meeting & Expo in Orlando, Florida, the discussion of these themes will continue with a focus on operational excellence, modernization, and harmonization in pharmaceutical science and manufacturing. 
Our very own Geir Rune Flåten, Director of Pharma Solution Consulting, will be presenting "Reduce Errors & Improve Manufacturing Execution with Digitalization" in the Therapy Innovations session on Day 3 with co-presenter, Andrew Jenkins, IT Director from GSK. 
Figure 2
The push for improvements in manufacturing execution and batch release was clear in the aforementioned report from Axendia (Fig. 2)
By enabling efficient and consistent manufacturing processes with AspenTech's MES, the GSK team has seen significant reductions in manual entries, reduction in batch cycle times and time to review as part of their initiative to "Build a Future-ready Supply Chain." It is an important reminder that regardless of where digitalization efforts are initiated, the impacts are typically felt across many areas of the business and the entire product life cycle.
Other highlights we'll be keeping our eyes on at the conference: 
Digitalization as a key component of progressing Pharma 4.0 initiatives
Manufacturing Trends with a focus on process design and improvement and the future of manufacturing
Supply Chain Optimization how do we ensure companies are taking full advantage of the tools available to proactively manage the supply disruptions that have proven so inevitable? 
The array of digital solutions that AspenTech provides is designed to address these complex challenges across the pharmaceutical product life cycle and when combined the whole is greater than the sum of its parts. Sharing information and insights across business functions allows for connected, contextual, effective decision-making and movement towards a self-optimizing enterprise.
AspenTech is proud to join the esteemed group of ISPE Corporate Sponsors. 
Learn more about AspenTech's involvement at the 2022 Annual Meeting and be sure to visit us at booth 933 to learn how AspenTech can help your company advance its digitalization journey.
---
Figures 1, 2: Axendia Report: The Needle is Moving: Digital Transformation in Life-Sciences Manufacturing