Pinpoint the weakness in your forecast.
Aspen Collaborative Demand Manager combines historical and real-time data to generate and manage the most accurate forecast with a state-of-the-art user interface. 
Generate profit-optimized supply plans.
Maximize business profitability with Aspen Supply Chain Planner by determining optimal production plans for even the most complex supply chains.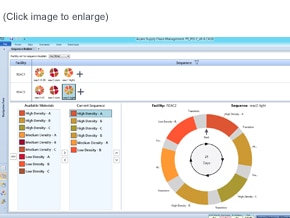 Create a schedule quickly and easily.
Create a schedule with your ideal production sequence using the new Campaign Manager in Aspen Plant Scheduler. Enhance asset utilization and reduce off-spec production with advanced visualization tools and powerful sequencing algorithms.
Get up to speed faster with Online Training.
Learn basic features with computer-based training and instructional videos through "Getting Started" animated tutorials. Expand your skill set with brief 3-5 minute "Best Practice" tutorials and enter the world of true supply chain optimization.