I am thrilled to announce that Aspen Mtell® was named as a "Breakthrough Product" of 2021 by Processing Magazine in the Process Automation category.

Awards are an important acknowledgement from both industry and peers, and this particular award is recognition of the value Aspen Mtell provides its customers. Our inspiration to constantly innovate and adapt our industrial AI solutions is driven by our customers, and I am proud of the role our solutions have played to advance digital transformation across industries.

Aspen Mtell is a prescriptive maintenance solution that helps organizations by accurately forecasting equipment degradation and failures and can advise on corrective actions to avoid or to mitigate impending issues. Aspen Mtell's machine learning agents are easy to use, quick to build and can update more readily than engineering- or statistics-based models. Aspen Mtell agents can be deployed rapidly across the whole plant and easily adjust to process changes. Aspen Mtell's approach is both equipment- and industry-agnostic, making it a complete solution that you can deploy and manage without third-party support.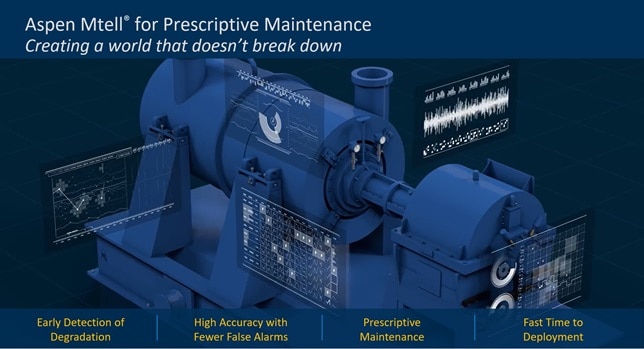 Aspen Mtell in Action
The current pandemic has stressed the importance of bringing life-saving drugs to the market as fast as possible. Equipment reliability and availability is crucial. Aspen Mtell helps pharmaceutical companies increase equipment reliability, prevent lost batches and more readily deliver supply in response to demand.

A multinational pharma company had to replace mechanical seals every few batches to prevent product loss. If the seal failure occurred, lost batches could not be recovered. This impacted production capacity due to the frequency of planned downtime required to change seals. The alternative to ramp up capacity required capital to expand; however, deploying Aspen Mtell provided early warning of seal failure by learning from similar patterns obtained from onstream equipment. This early warning led to improved preventive maintenance, resulting in fewer production disruptions and also decreased seal replacement frequency. The company realized a 60% reduction in lifecycle maintenance costs and 50% reduction in CAPEX.

With Aspen Mtell, pharmaceutical manufacturers can safeguard security of supply, optimize production and control costs in mere weeks and months, instead of years.
Aspen Mtell, AWS and Beyond

Aspen Mtell is now available via Amazon Web Services (AWS) as a part of its recently launched
Equipment Health and Maintenance (EHM) solution
. EHM seeks to provide cloud-based offerings for asset monitoring and maintenance planning activities.
With the shared goals of improving safety, reliability, performance across downstream energy industries, this AWS-AspenTech partnership further cements our role in pushing the industry towards more efficient and sustainable operations. And, early feedback on Aspen Mtell's availability via AWS is very positive. We recently held a webinar to talk about the joint solutions, which you
can view here
.
The Aspen Mtell team is looking forward to continuing to maximize uptime and push the limits of performance in in 2022! Organizations adopting Aspen Mtell are commenting on ease of implementation, rapid integration with current maintenance strategies and the ability to deploy at speed.
For more on Aspen Mtell, read our latest whitepaper,
Delivering on the Promise of Prescriptive Maintenance
.