Achieve compliance with greater speed and ease.
Visit our NEW Aspen HYSYS Resource Center! Aspen HYSYS incorporates the most up-to-date industry standards into software calculations to help companies achieve safety compliance while doing so quickly and accurately.This resource center will help new and experienced engineers discover the full power of Aspen HYSYS, the most trusted process modeling software for the energy industry. Read more here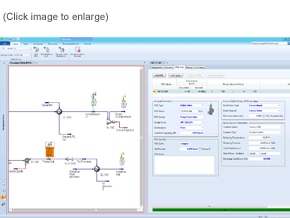 Size and rate pressure safety valves following industry standards.
Ensure that proper pressure safety valve and rupture disk sizing methods are used throughout overpressure analysis. Accepted industry standards API 520, 521 are implemented in AspenTech's Process Safety Software to complete pressure relief analysis calculations, including relief loads and orifice sizing.
Automatically generate required pressure safety valve documentation.
Save time throughout the pressure relief analysis workflow by eliminating manual completion of reports. The documentation builder in AspenTech's Process Safety Software automatically generates customizable data and summary sheets to be used within a company or submitted to safety regulatory agencies and valve vendors. Utilize this tool to maintain information about pressure relief analysis studies in one central location.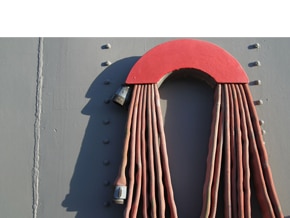 Take advantage of pressure relief analysis calculations for fire scenarios.
Meet API 521 standards with automated fire calculation methods in V8.6 of Aspen HYSYS and Aspen Plus. Use AspenTech's Process Safety Software to streamline pressure relief analysis projects by replacing tedious manual calculations. With the introduction of V8.8, rigorous calculations are now extended to tube rupture and control valve failure scenarios.
Perform storage tank protection, multivalve analysis, and size rupture disks.
Ensure the pressure relief analysis of storage tanks comply with API 2000v7 overpressure protection standards. Rate non-sizing scenarios with multiple pressure safety valves to prevent chatter. Size rupture disk devices independent of PSVs.
Use process data to complete pressure relief analysis projects.
For each pressure safety valve, 25 overpressure relief scenarios are available for evaluation. Data from a completed Aspen HYSYS or Aspen Plus simulation—including dynamic safety studies—is utilized to complete the design of pressure safety valves and rupture disks for both single and mixed phase systems. Additionally, relief load calculations for tedious overpressure scenarios (such as fire, control valve failure, and exchanger tube rupture) are built-in to simplify the pressure relief analysis workflow.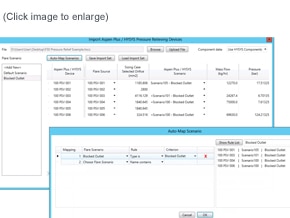 Automatically import pressure safety valve results to analyze flare network.
With AspenTech's Process Safety Software manual data transfer between sized relief devices and flare network analysis is eliminated. Pressure relief analysis results generated within Aspen Plus and Aspen HYSYS can be automatically exported to Aspen Flare System Analyzer and relief scenarios from simulation can be mapped to specific flare scenarios to create a detailed and rigorous flare network.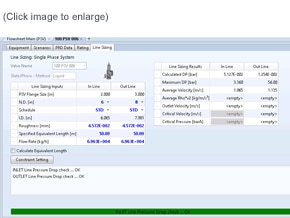 Size pipe lines leading to and from pressure safety valves.
The line sizing function in AspenTech's Process Safety Software allows users to size the inlet and outlet piping of pressure safety valves according to user-defined pressure drops and velocity constraints in the fluid flow. Line equivalent length can also be calculated by specifying the type and quantity of piping components present. These sizing methods are available for single and mixed phase systems.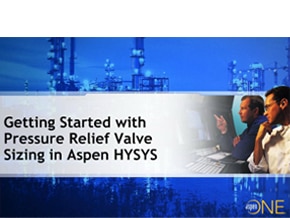 Online Training: complete pressure relief analysis using AspenTech's Process Safety Software.
Learn about product features and workflows with video tutorials on completing pressure relief analysis work utilizing Aspen HYSYS and Aspen Plus Computer Based Training (CBT) course. Self-paced CBT courses provide a structured learning path with an interactive learning experience for learners of every type: visual, auditory and kinesthetic. To view a CBT, click the Learn More link below and search 'CBT'.