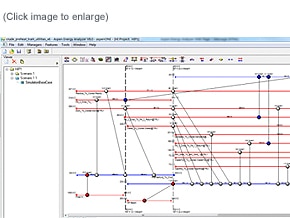 Minimize process energy costs.
AspenTech's Energy Management Software, Aspen Energy Analyzer, provides an easy environment to perform optimal heat exchanger network design and retrofit.  Using this tool, it is possible to cut down on unnecessary energy use, for a less expensive and greener process design.
Calculate targets for energy and capital investment.
Utilize energy management software to develop improved heat integration projects while significantly reducing operating, capital, and design costs, and minimizing energy-related emissions of heat exchanger networks.  Utilizing either a graphical or algorithmic method, users can identify the best heat exchanger network design solutions without spending excessive amounts of resources.
Access from within the simulation using Activated Energy.
It's easy to run energy analysis to minimize process energy and identify changes to the heat exchanger network from within Aspen HYSYS and Aspen Plus, using the Activated Energy Analysis feature.  Activated Energy enables users to run Aspen Energy Analyzer without leaving the process simulator.
Get up to speed faster with Aspen Energy Analyzer Online Training.
Learn about AspenTech's Energy Management Software product features and workflows or refine skills on advanced topics with video tutorials and Computer Based Training (CBT) courses. CBT courses provide a structured learning path with an interactive and rich learning experience.  Learn how energy management software is the key to minimize process energy and optimize heat exchanger networks!