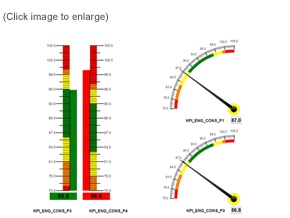 A Picture is Worth a Thousand Words
Sometimes, getting your point across is all about how you present the information. Create a comprehensive view of plant operations with the rich library of HTML5 graphics in aspenONE Process Explorer.  With dynamic gauges, dials, and other dashboard elements, you can deliver performance dashboards that are lightning fast and quickly convey important information.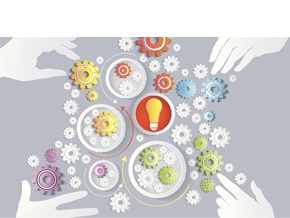 Share, Collaborate and Keep Everyone on the Same Page
Aspen Role-Based Visualization is now supported in SharePoint 2013 to distribute and share manufacturing and information throughout the enterprise.  Now, content from aspenONE Process Explorer can be hosted in Aspen Role-Based Visualization dashboards to provide your teams with the operational intelligence to get the most from your production assets.
Introducing aspenONE Process Explorer.
The new aspenONE Process Explorer is the easiest, fastest, and most convenient way yet of accessing graphics, trends and analytics.  It provides secure access from any device connected to your network without the need for client-side software.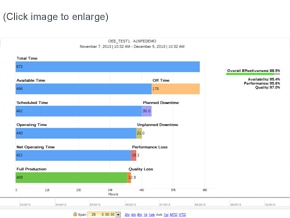 Introducing aspenONE Process Explorer Analytics.
The new aspenONE Process Explorer Analytics, based on the same HTML-5 technology as aspenONE Process Explorer, delivers packaged analytical applications like Overall Equipment Effectiveness and SPC.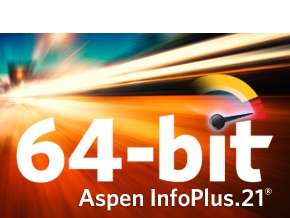 Benchmark plant performance across the enterprise.
Aspen's InfoPlus.21 64-bit extends its tag footprint to over 1,000,000 thus facilitating enterprise-wide benchmarking and providing a comprehensive view of production/assets across the business.   Aspen InfoPlus.21 64-bit fully leverages 64-bit technology, multi-processor/multi-core hardware and latest Windows Server operating systems.
Intelligent Search just got smarter.
We've augmented our 'Google-like' Intelligent Search functionality to include searching for tags within graphics, trends, KPIs, etc.    Now even your most casual user can find information easily and efficiently!
Access vital plant data faster and easier.
Aspen InfoPlus.21® is the leading and most comprehensive real-time information management system. It forms the core of a manufacturing integration platform, uniting data across process control, manufacturing operations, and business systems.
Improve consistency and reduce errors.
Improved production execution enables automated workflow and order tracking—facilitating improved consistency, better production tracking, and reduced errors.