ADIPEC, the annual global energy conference, which brings together at least 50,000 people from 160 countries including 40 Energy Ministers, 38 of them Energy CEOs, as well as technologists and consultants, convened today in Abu Dhabi — bigger and more relevant than ever.
What is new at ADIPEC? This year, building on 2021's strong focus on sustainability and net-zero carbon emissions, energy transition strategies have come more to the top of discussions. But, probably most clearly, is the importance of new forms of partnerships; specifically in some of the key areas such as carbon capture, hydrogen, and the focus on economics and technology which can help drive the economic and scaling breakthroughs.
ADIPEC, importantly, provides the energy industry a platform with which to address the world and engage in conversation just shy of a week before COP27 — taking place November 6th through the 18th in neighboring Egypt. ADIPEC banners blanketed the convention center, the city avenues, billboards and hotels. "ADIPEC … The Future of Energy … Secure, Affordable, Sustainable."
The tone, overall, is different this year. Last year, Abu Dhabi National Oil Company (ADNOC), Aramco and the rest of the global National Oil Companies (NOCs) were contending with existential challenges. This year, the challenges are still there (and maybe larger), but they seem to have been internalized; the net zero commitments made. But, at the same time, the global economic, geopolitical and energy price shocks of the past two years have made energy affordability and energy security a larger part of the message, alongside the reality that global energy demand continues to grow. Even with the rapid pace of electrification, hydrocarbons are a part of the energy transition journey.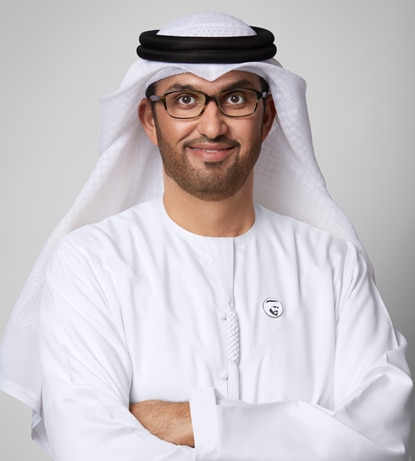 Dr. Sultan Ahmed Al Jaber
The message this year from ADNOC CEO, Dr. Sultan Ahmed Al Jaber, was upbeat and strong. He opened by talking about the global challenge of growth and sustainability. He then spoke about the projected world population growth to "9.7 billion people" and energy demand growth ("by 30%") between now and 2050. He talked about the leadership and execution that Abu Dhabi would be showing the world to change the energy future, to ensure energy affordability and to achieve sustainability.
He highlighted Abu Dhabi's milestone in achieving zero carbon electricity through solar and nuclear power; about Abu Dhabi leading in taking carbon capture to scale and about Abu Dhabi's first shipment of ammonia (blue hydrogen) to Hamburg, Germany.  
Closing, Jaber stated that technology will be one of the greatest enablers of the oil and gas industry and this is an area where the industry can amplify and accelerate its impact. Challenging the industry, he talked about low emissions solutions. Ahead of COP27 next week in Egypt and COP28 (taking place next year in Abu Dhabi), he challenged the global energy community saying, "efforts should focus on a new, bold, realistic and pragmatic pathway that benefits humanity, the climate and the economy." He stated, "Make that move together, force the future."
Following Jaber, Saudi Arabia's Minister of Energy, Abdulaziz bin Salman Al Saud, declared Saudi Arabia to be hand-in-hand with Abu Dhabi, with the same objectives and priorities on sustainability, growth and energy affordability. 
Wandering the aisles of the 2,000-some exhibits, almost all of the established top global energy players came with strong messages of sustainability, from Total to BP to Petronas and Pertamina. While in many of the developing energy territories, messages were more basic. Among the exhibits of hundreds of technology and equipment suppliers to the energy production industry, over half but certainly not all, of the suppliers had a strong energy transition or energy sustainability tone.
In my many conversations here in Abu Dhabi, what I have found striking and gratifying is that there is a surge of people coming to continue conversations with AspenTech, with the understanding that the digital technology innovations we are revealing, may be the keys to important carbon reduction, economic, and speed breakthroughs.