I have always felt that the best part about technology is how it can be used to address big problems at speed and at scale. More recently, I've started to believe that most of the problems that technology aims to solve start as data problems. In order to improve something, whether its asset performance or enterprise sustainability, the ability to gather and make sense of a high volume of diverse information at the right time is foundational to establishing baselines and making improvements. AspenTech has provided these insights and improvements, remaining on the cutting edge of industrial software since its founding. In keeping with that, today, I am excited to announce the acquisition of inmation, a market leader in real-time industrial data management.
Founded in 2013 in Cologne, Germany, inmation brings an industrial data platform that is designed from the ground up to meet the moment and tackle the digitalization challenges our customers are facing. By adding inmation to AspenTech's portfolio of products, we are changing the world of industrial production by liberating stranded data, collecting it in one central location, and making it available to relevant stakeholders from the plant floor to the executive suite. Beyond the inmation technology, we are also bringing in a group of energized and insightful colleagues who are equally passionate about industrial data as we are.
The customers we serve, capital-intensive industries, have been recording and capturing large amounts of data for decades. This data has incredible potential but putting it to good use is far easier said than done. Unlocking high value use cases that leverage this data, things like production optimization, machine learning, or emissions tracking, require a data management strategy that is different than what has been done in the past.
With the acquisition, inmation will become the cornerstone of AspenTech's industrial data and connectivity business unit. The goal of this business unit is to help customers realize the maximum value from industrial data securely, economically, and at scale. Our team aims to be the industrial data software powerhouse for our customers by providing solutions from the plant level with products like Aspen IP.21® to the enterprise level, and to ensure data is available to all customer data consumers, like data science and sustainability teams.
At AspenTech, we are bridging the gap between Operation Technologies (OT) and Information Technologies (IT) to build an industrial data foundation or platform that enables our customers to achieve their goals and to meet the dual challenge of meetings today's demands while ensuring a sustainable tomorrow.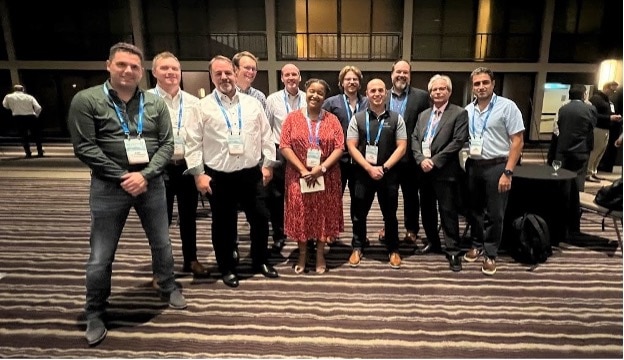 Some of the new members who are joining our team
For more information: