"Maximum energy, minimum emissions..."
- Dr. Sultan Al Jaber, Minister of Industry and Advanced Technology of the United Arab Emirates
During his opening address at ADIPEC this year, Dr. Sultan Al Jaber, Minister of Industry and Advanced Technology of the United Arab Emirates, emphasized the need to supply affordable energy to a growing population by focusing on the importance of reducing emissions and carbon footprint. During his remarks, he noted that to achieve this, "the world needs all the energy solutions it can get oil, gas, solar, wind, nuclear, and hydrogen… plus the clean energies yet to be discovered, commercialized and deployed." 1
Recent ADIPEC and COP27 conferences have emphasized the importance of sustainability and decarbonization to mitigate the effects of climate change. But the reality is that despite the record number of investment and pledges, the industry is still falling short of addressing the dual challenge of meeting climate goals while supporting the needs of a growing population. According to the International Energy Agency World Energy Outlook 2022 published in October, "The world is in a critical decade for delivering a more secure, sustainable and affordable energy system." 2
Digitalization and Sustainability Go Hand in Hand
As the topic of sustainability becomes more critical, and companies are looking at maximizing their investment returns and minimizing the time to value to reach their commitments, the role of digitalization is vital. With AspenTech's digital solutions, capital-intensive industries have been able to achieve operational excellence and drive profitability, balancing with sustainability goals.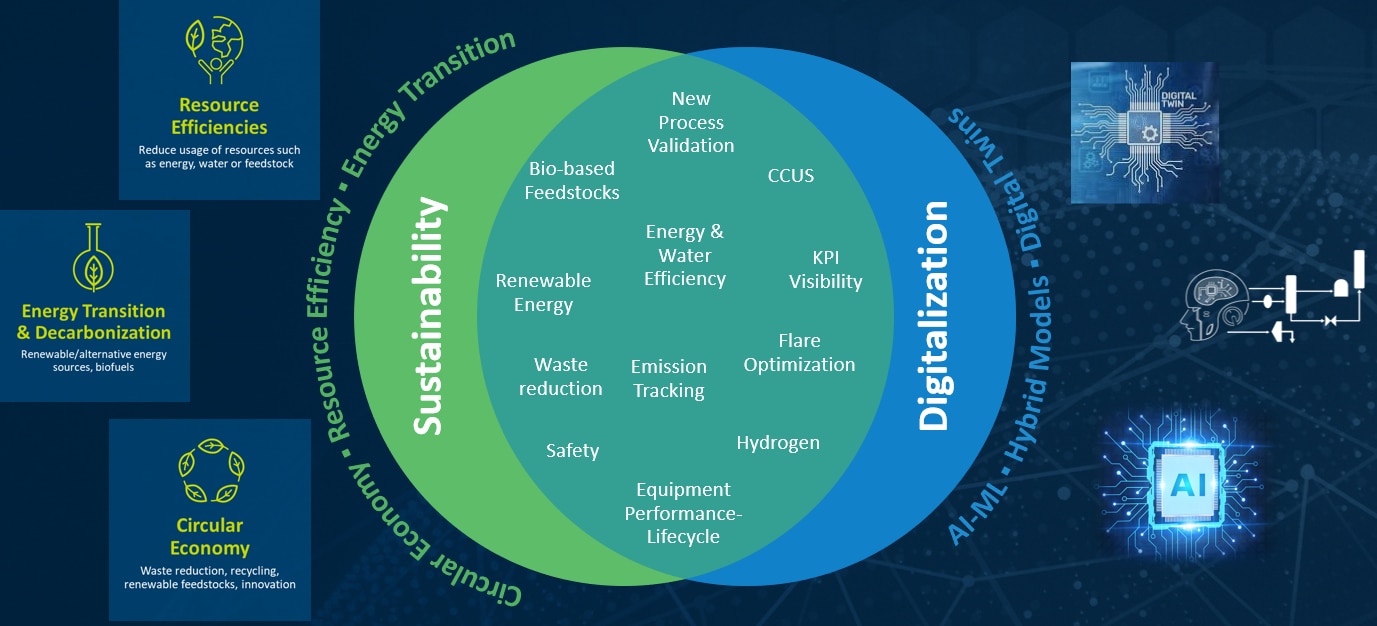 AspenTech Digital Solutions Accelerate the Sustainability Journey

In addition to AspenTech's three long-established solution suites (Performance Engineering, Manufacturing and Supply Chain and Asset Performance Management), our portfolio becomes even more relevant with the integration of Subsurface Science & Engineering and Digital Grid Management (OSI), expanding the sustainability solution set to address the challenges of carbon storage, geothermal energy, and supporting the growing demand of electricity systems. The release of aspenONE® V14 can help customers achieve new levels of efficiencies while accelerating progress toward Net Zero goals, harnessing the innovations needed to address the Dual Challenge.
Effectively Track and Monitor Emissions
Establishing a CO2 emissions baseline and determining which critical plant areas need focus is key to make progress towards meeting sustainability goals. Released in aspenONE V14, Aspen Unified Reconciliation and AccountingTM (AURA) brings fast and efficient mass and volume balance to Aspen Unified. AURA enables energy companies to efficiently track and monitor CO2 emissions in a refinery model by automating the collection and aggregation of data from multiple sources, including reconciled CO2 emissions based on fuel being used in different units, planning, Aspen HYSYS models, and others for reporting and compliance purposes.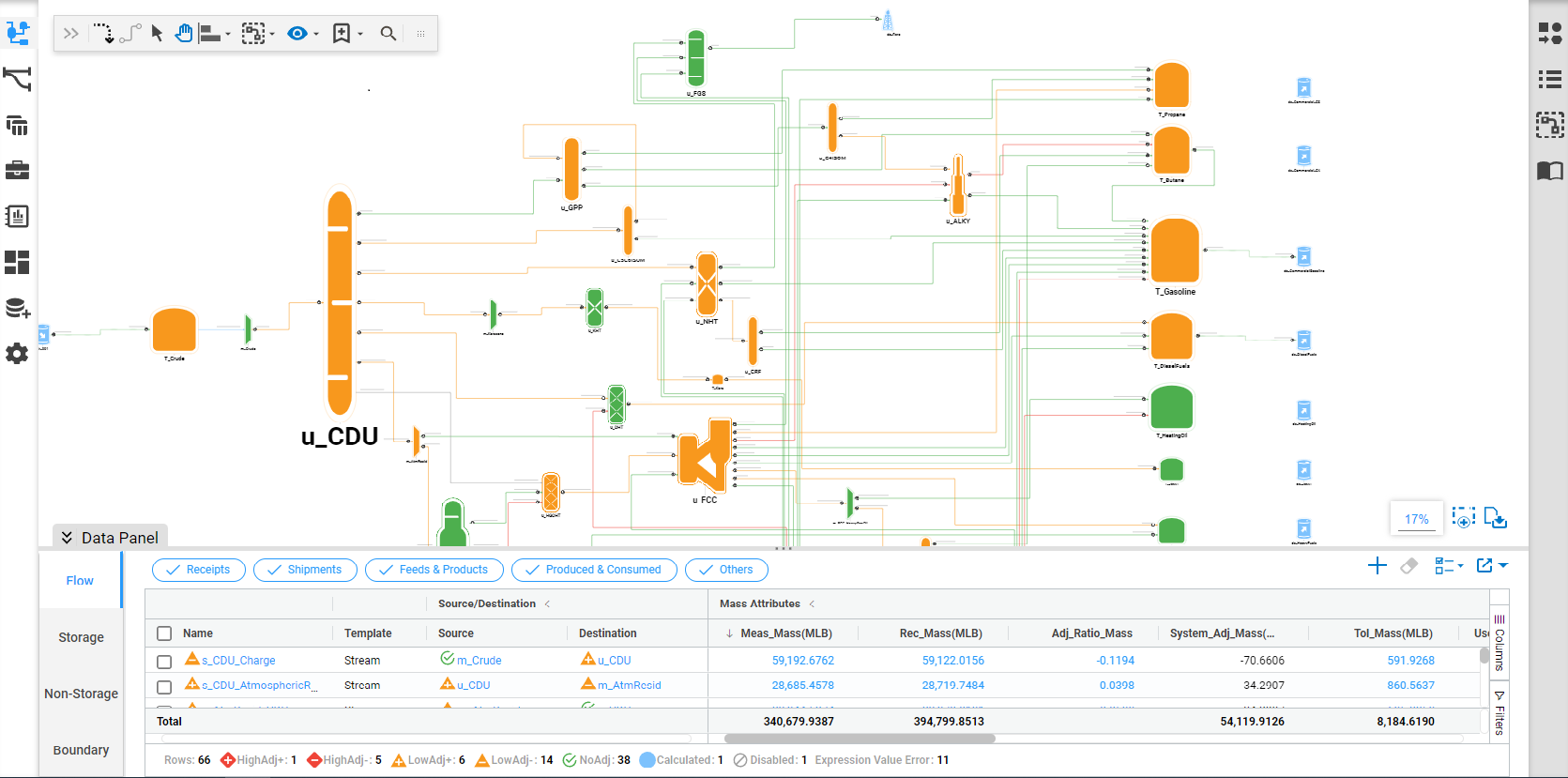 Aspen Unified Reconciliation and Accounting model for CO2 emissions tracking and monitoring
Deliver Innovation to Market Hydrogen at Scale
As the world targets net zero, hydrogen plays a dual role as a long-term zero-carbon energy source and as a transition resource while the world moves towards decarbonization. Aspen Plus® and Aspen HYSYS® V14 can help to improve development and scaling of new hydrogen processes, especially with the built-in electrolyzer models for green hydrogen. The models can help to improve process efficiency and reduce costs, to accelerate commercialization of low-carbon hydrogen production.
In addition to this, Aspen Plus and Aspen HYSYS enable the development of optimal solutions across the value chain through accurate property prediction at cryogenic temperatures, leveraging hydrogen thermodynamics and automatic calculation of ortho-para equilibrium for safe and economic storage and transportation.

Quickly and Efficiently Commercialize Processes based on Renewable Feedstocks
Bio-based processes are one of the alternatives of energy and chemical companies to reduce their carbon footprint. Aspen Plus V14 includes a biomass and microorganism library and out-of-the-box modeling capabilities that will contribute to reduce time to market for new bio-based processes. Rigorous fermentation modeling with rate-based reaction models will help to accelerate process development of biofuels and biochemicals.
With Aspen HYSYS V14, refineries can reduce risks in transitioning to Bio-Feed/Co-feed processes. Aspen HYSYS V14 is leveraging Molecule Based reaction framework to model bio-feed conversion to hydrocarbons and hydrotreating of mixture of hydrocarbons and bio-feeds, allowing the users to accurately design processing facilities.

Leverage the Power of AspenTech Solutions for Sustainability
Digital solutions offer a clear solution to accelerate sustainability initiatives. And we help you jumpstart your efforts with our 100+ AspenTech Sustainability Sample Models that provide easy access to the latest innovations to develop competency on your teams. Covering solutions across AspenTech portfolio, these starter kits can help to make better investment decisions, reduce costs and emissions and drive innovation to bring new technologies faster to market across multiple sustainability pathways.
Learn more about aspenONE v14 to start obtaining these benefits and more!
---
Sources: