Added Benefit With Zero Added Cost
AspenTech's University Program offers flexible, affordable software packages to enhance your chemical engineering curriculum. The new computer-based teaching modules and Aspen Process Controller software are included in the university package at no extra cost.
Solutions Specially Tailored for Universities
AspenTech has developed interactive computer-based teaching modules which can be integrated into existing curricula. Modules created by experts were tested out by recent graduates from leading universities. Feedback was used to enhance the modules to ensure content is both challenging and informative.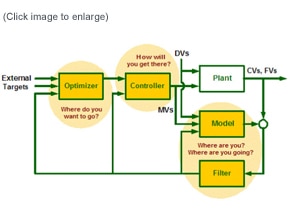 Build theoretical and empirical model-based, multivariable controller applications
Modules walk students through the configuration procedure in a step by step manner. They will use first principle equations (mass, energy, and momentum) to generate working models.
Show how process outputs respond to changes in process inputs
Explore relationships by experimenting with changing set points for input and output variables. Evaluate the performance of model predictive control in the face of a strongly interacting multi-input multi output (MIMO) system.
Develop a better understanding of process behavior and performance
Show how the filter compares output measurements from the plant with output predictions from the model in order to determine the dynamic state of the plant and to predict future plant performance.
Optimize by setting targets, defining constraints, manipulating inputs and allowing trade-offs
See how the optimizer computes the best steady state operating point for the plant, subject to constraints and economic tuning. Show how trade-offs affect a process, and how to determine what to maximize and where to minimize.
Learn how to develop a move plan
Address the question: How will you get there? Develop a multiple-step manipulated variable move plan that takes the plant from its current operating point to the optimal steady state with controller tuning.
Illustrate the advantages of MPC over PID controllers
Show that model predictive control is suitable for processes with difficult dynamics, tightly constrained systems, and strongly interacting multi-variable systems.